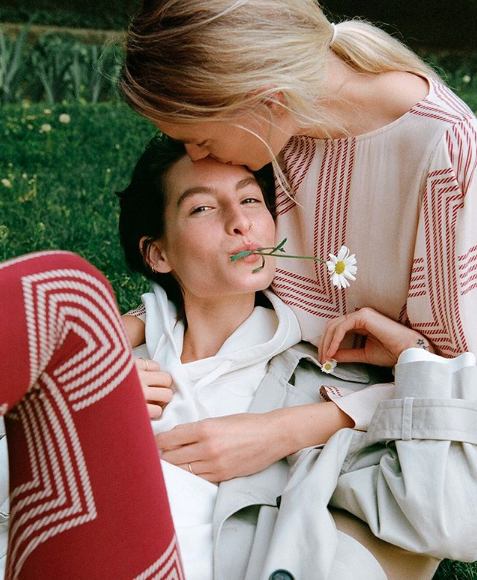 My notes -
When Zara launched its new sustainability targets, it was a relief to see a mega manufacturer (and arguably one of the biggest contributors to the many negative environmental impacts of fast fashion) take a more holistic view of its operations. For a while now, fashion brands have leaned on their 'green' inhouse lines as a way to show goodwill with the growing cohort of sustainably-minded consumers, while continuing to pump out masses of garments under unethical and unsustainable conditions. While these green lines can act as a testing ground for new, more sustainable production mechanisms (this is one of Loewe's arguments for launching its environmentally conscious line Eye Loewe Nature), fashion needs to grapple with the fact that what we need isn't more product; it's a change in mindset. And, as this article points out, by creating new lines of sustainable products, it only serves to highlight the unsustainable qualities of a brand's original line-up.
My notes -
Schwartz Media's daily podcast 7am is making a play to become Australia's answer to The Daily, and they're not too subtle about that ambition either. The show's format is strikingly similar, even down to host Elizabeth Kulas's script. Nevertheless, Kulas has a likeable manner and, considering the budget would be a fraction of that of The Daily's, 7am is produced very well.
I was glued to this episode on The Australian's reporting, the paper's tilt towards extreme right-wing views and the correlation between Murdoch's media empire and the rise of the far-right in Australia. It reminded me of the responsibility of journalists and how fear and outrage is the life force behind Murdoch's oligopoly.
My notes -
Jia Tolentino is having a big, big moment. Dubbed the Joan Didion of our time, the New Yorker staff writer has just released her first book Trick Mirror - a collection of essays on the internet, the self, feminism, politics and the self-delusion that bubbles just beneath the surface of our lives. I'm yet to read Tolentino's book, but her interview with Eva Wiseman in The Guardian revealed a kernel of insight so basic and timely, it made me want to shut my laptop and run to the nearest book store: "I don't write with the hope of 'making an impact', because the world is too confusing right now. But that actually makes me feel free in writing – you just try your best. And I think that needs to be the philosophy I adopt about life in general."
My notes -
It's always one thing after another with this guy. One can only guess that this is part of the ongoing plan he's hatching: constantly discombobulating us with ever-more madness. This piece, by Rhona Garelick, is a gut-wrenching evisceration of The Trump's visit to the El Paso hospital that housed some of the victims of the 3 August mass shooting. It touches on the political practice of using babies as humanising props in a politician's arsenal, which - in this instance - was a gross tactic deployed for a photo-opp designed to make Donald and Melania human, but achieved the exact opposite.
My notes -
When Seth Cohen strolled onto my TV in 2003, my 16 year-old taste in both music and men changed forever. "Do not insult Death Cab" he said. So insult them, I did not. I collected every single one of The O.C.'s 5 albums, learning about The Dandy Warhols, Eels and Sufjan Stevens which opened my eyes to teenage angst in a way I am not sure I ever recovered from. So, bless you, Mallrat, for compiling every song from The O.C.'s 5 albums into a single Spotify playlist. Now I can relive the most formative years of my life; where heartbreak, useless belts and frosted lip gloss reigned supreme.
Watching - The Wire:
iTunes
My notes -
I've watched the entire Mad Men series at least 3 times now. I once stress-watched an entire season of The Sopranos on a very turbulent flight between Hong Kong and Paris. When I get into a series, I get INTO IT in a big way. I am about 17 years late to The Wire, and although the political and social climate has changed since its premiere in 2002, it remains relevant, raw and addictive. The series takes a look at the tension between criminality and morality, at drugs and politics, at human fallibility and bravery. The first season follows McNulty as the complicated antihero as he and his police cohort systematically builds a case against Avon Barksdale and his crew of heroin-dealers.Unlike The Sopranos or Mad Men, The Wire isn't diffused with charm, style or pathos. It's a series stripped of all pretence or flourish, and that's what makes it so compelling. It gripped me from start to finish.